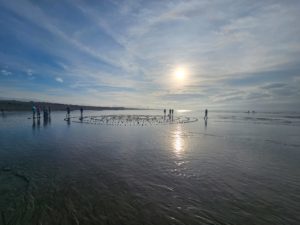 William Blake famously invited us "to see a world in a grain of sand".
You can also see a world in a labyrinth.
I love labyrinths. Labyrinths are spiral-shaped. You find spirals everywhere in nature; our galaxy is a spiral.
I've offered labyrinth walks as an awareness and meditation practice for 25+ years in different places from Naxos to Shoreham Beach, which is where I was last Saturday.
Here's 10 life lessons drawn from building a beach labyrinth.
1.      Make the call clearly from your heart and trust others will join you. It's low tide, 6.15am and no one except my wife and I are on the beach. I trust people will come. There's a lot of pebbles to gather. And people show up: solo, in twos, threes…
2.      Have a clear intention and know your boundary conditions. I wanted to create a 7-circuit classical labyrinth. It has a certain form and design. It's not any old shape. Be willing to guide the process.
3.      Life is a mirror for who you are. Take a look at the world you are creating. Despite my intentions of easygoingness, I note my face is tensing up. 'There's too much chatting going on and not enough work', I inwardly grumble. I catch myself. "Just look at all the chatting, too much fun going on and not enough pebble laying", I jest. Can we compassionately catch our contradictions in the moment?
4.      When joy breaks through, savour the moment. The sun rises, it's a glorious moment.
5.      Notice the small things along the way. Life rushes by, we're a glimmer in a 13.8 billion year evolving universe. Life is not measured by the quantity of our moments, it's the depth and beauty of them that counts.
6.      Good ritual matters and gives meaning to life. The labyrinth is built and it'd be easy to skip the opening and just walk. Instead, I ask people to gather around the circle. I read a poem. Someone has been humming as we build, and I realise others are in a community choir. They lead a simple chant, others join in.
7.      Shared food is at the heart of building community. People gather in our garden afterwards, drink coffee, connect.
8.      Make your contribution and then let it go. That evening hundreds of people walk the labyrinth. There's a community party on the beach; kids are flying round the labyrinth.
9.      Smile at life's surprising turns: don't take yourself too seriously. It's amazing that the labyrinth is still there this morning, three days later. I'm walking it, the incoming tide is lapping over the path, when my dog blocks the path and squats, releasing three enormous turds. I chase them in the lapping waves with my poo bag. Shit happens, I'm reminded. Smile, it's all part of life.
10.  What mark will your life leave? The labyrinth will fade today and disappear without a trace, except the memories.
Walking a labyrinth is part of our weekend Circle of Trust® retreat, 29 Sept-1 Oct, Finding Joy and Aliveness in Chaotic Times https://bit.ly/3oJhJ43
Photo credit: Phil Balding