Summer Solstice Candlelit Labyrinth Walk  
7.30pm-9.15pm, Thursday 21 June 2018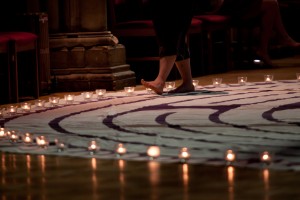 Come and celebrate the height of summer. We walk a replica of the medieval 12th Century labyrinth found in Chartres Cathedral, France. The Labyrinth is a non-dogmatic, generous symbol of invitation that people are often magnetically drawn to. The single, spiralling path of the labyrinth which leads to a central area is a metaphor for our life and spiritual journey. You walk the same path back out returning to the beginning. There are no tricks or dead ends unlike mazes. The walk will be accompanied with evocative live music played by Cathy Rowland.
Introductory talk about the Labyrinth at 7.30pm, walk starts at 7.45pm.
In the last thirty years, walking the labyrinth has re-emerged as a meditative practice and a symbolic image of pilgrimage, not in the geographical sense, but of the journey we each make through life: a journey to the centre, a return to the heart, back to the Spirit who faithfully waits for us. Walking the labyrinth allows dimensions of ourselves to come into our consciousness; a way to meet our true selves. No experience of labyrinths or meditation needed.
Tickets available on the door: £8 standard / £5 concessions.
Study & Fellowship Group:  Mary Magdalene, Discovering the Woman at the Heart of Christianity
7pm-9.30pm, Mondays 30 April & then on bi-monthly basis through to October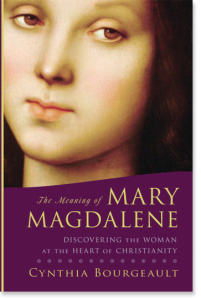 Was Jesus's most important disciple a woman? For many centuries in the Western Christian Church the place of Mary Magdalene has been marginalised. It was only in 2016 that Pope Francis declared Mary Magdalene as "the Apostle to the Apostles". The resurgent interest in the person and significance of Mary Magdelene may be one of the signs of a restoration and rebalancing of the masculine and feminine energies within the Christian tradition.
Our resource for study and reflection will be the book, The Meaning of Mary Magdalene by Cynthia Bourgeault. We will meet in a home in Shoreham-by-Sea from 7pm-9.30pm on Monday 30 April and at bi-monthly intervals after that. We'll start the evening with a simple shared meal. After the meal there will be time for shared reflections on chapters of the book and time for meditation and prayer. The group size is limited to 15 people. To register your interest please email info@centreforspirituality.org GROUP IS NOW FULLY SUBSCRIBED.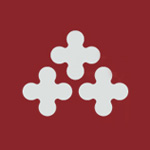 "Silence is a dwelling place that is at once horizontal, allowing connection with the thisness, the singularity of everything, but also, at the same time, vertical. It allows us to find through those things doorways to the eternal." Richard Rohr