From Darkness to Light  – Candlelit Labyrinth Walk and Sound Bath – SOLD OUT 
7pm-9pm, Thursday 20 December, St Augustine's Event Centre, BN1 6EA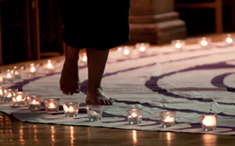 On the eve of Winter Solstice come and join us for a rich and special evening of a candlelit labyrinth walk, meditation and sound bath, evoking in symbol, simple ritual, poetry, voice and music the movement from darkness to light. 
Many spiritual traditions hold this period of the year as a time of waiting in the darkness and looking forward to the return of the light. In the Christian tradition, advent means "the coming" and the anticipation of the Christ light emerging in the world. The evening is an invitation to connect to our inner light, the Divine Spirit, within each of us, which guides us on our life's journey, especially when the outer world can feel overwhelming and the darkness all too evident. There will be an opportunity during the evening to transition, as you wish, between labyrinth walking, sound bath and meditative reflection using art materials. No prior experience of meditation, sounds baths or labyrinths is required.
For more details and to buy your tickets (£12 standard, £7.50 concessions) please visit Eventbrite. Tickets must be bought in advance as numbers are limited.  SORRY – ALL TICKETS HAVE NOW BEEN SOLD FOR THIS EVENT 
Journeys of the Heart: An Invitation to the Spiritual Path with the Mystic Meister Eckhart
11am-4.30pm, Saturday 2 February 2019, St Luke's Church Prestonville, 64 Old Shoreham Rd, Brighton BN1 5DD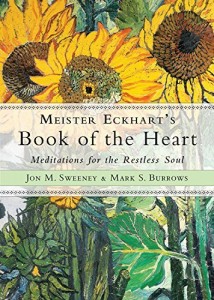 A day for those who hunger for depth in life. We are delighted to welcome Professor Mark Burrows to lead the day. Mark is a poet and scholar of medieval theology and professor of religion and literature at the Protestant University of Applied Sciences in Bochum, Germany. Our focus will be Meister Eckhart, a 13th Century priest and mystic and one of Christianity's greatest literary and spiritual voices.
The freshness of Eckhart's imagery and the depth and universality of his teaching has attracted spiritual seekers, both Christian and non-Christian alike, down the centuries. Eckhart wrote at a time – much like our own – when society appeared to be coming apart at the seams. The day will offer a chance to live into Eckhart's wisdom, drawing on poetic rendering of Eckhart's teaching by Mark Burrows, together with selections from Eckhart's sermons. The question that will guide us, as it did Eckhart, is what it means to live into love as the very heart of our lives? No prior knowledge of Eckhart required. Bring a packed lunch. Tickets available through Eventbrite: £22 standard, £14 concessions.
"Into this clutter of the spiritual industry the clarity of Meister Eckhart's teaching shines like a light that refreshes and relieves." John O'Donohue
Mark Burrows, our workshop leader, is a poet and scholar of medieval theology. A long-time resident of New England, he now serves as professor of religion and literature at the Protestant University of Applied Sciences in Bochum (Germany). He is the author of several books on theology and poetry, including Meister Eckhart's Book of the Heart (2017) www.msburrows.com
---

"Silence is a dwelling place that is at once horizontal, allowing connection with the thisness, the singularity of everything, but also, at the same time, vertical. It allows us to find through those things doorways to the eternal." Richard Rohr