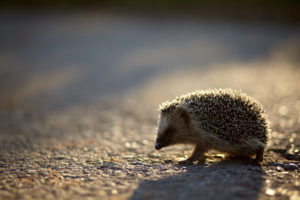 It's 5.35am. The road is dark. A hedgehog appears in my car headlights a few feet ahead. I slam on the breaks and stop the car. Did I hit it?
Single moments can symbolically capture a whole world: the macro (systemic) and the micro (individual) interwoven in one instant.
Hedgehogs, once common in the UK, are on the red list of mammals, at risk of extinction. I know this intellectually, just as I know intellectually that the climate is spiralling out of control, that racism and misogyny is rife in the Metropolitan Police, and that our prisons, long-since forgotten by society, are heaving with people barely surviving in sub-human conditions. But human care-lessness, my own and others, is made immediate and real, in the strange, unfamiliar face of a little hedgehog, instantly illuminated by my hulking car's headlights. The imbalances of power, sometimes hidden or disguised in everyday life, are visible and undeniable here.
It comes down to this: the personal and systemic are interwoven. I am shaped by the myriad of forces around me and my action is either reinforcing life-diminishing patterns or it's an act of joyful, life-affirming resistance. My distraction, my mindfulness, my care and my carelessness, all of it has consequences. It all counts. And life is played out, not in abstract ideas, but in these moment-to-moment encounters with human and more-than-human others.
When I get out of the car, I see the hedgehog quietly continuing on its way.
I hadn't been speeding but on another day I could've been rushing. There is a violence in haste. It's contagious; we catch it and spread it. I no longer want to replicate that pattern.
Many of us are waking up, slowly and fitfully, to the realisation that our sense of kin, our sense of self is much wider, deeper, richer than we have imagined.
The story of human beings as isolated, separate, competitive selves, the myth of late-stage capitalism, is a distortion of who we are at heart. Me, you and this hedgehog are small, yet indispensable members, of a much grander 13.8-billion-year unfolding story. We're being called to reimagine ourselves and our story…
I'll be joining the 'Queue' in London at the Millenium Bridge this Friday 15 September at 12pm, an imaginative, non-violent, public protest from those working in business calling for action from all political parties on #Climate and #Nature https://lnkd.in/etx8wPvg
I invite you to join me and Jackie Thoms in an upcoming Circle of Trust® weekend retreat, Finding Joy and Aliveness in Chaotic Times, 29 Sept-1 Oct at the magical Emerson College in Forest Row. We have a few places left. #Retreats aren't self-indulgent splurges. They are refuges to reclaim our full humanity, sanctuaries to rest and renew, shelters where together we cultivate conditions that honour and strengthen the best of the human spirit. Join us: https://bit.ly/3oJhJ43
John Watters, Co-Founder, Centre for Spirituality