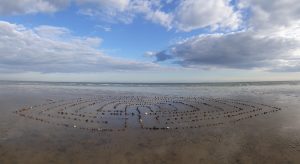 Labyrinth walks have been at the heart of my spiritual practice for 25 years but in all that time I've never created a beach labyrinth.
For the past 18 months I've lived on Shoreham Beach and often as I've walked along the beach at low tide, I've wondered about building one.
I decided to experiment at the time of the Full Moon. It was a surprisingly powerful experience.
A few of us came together and built a seven-circuit classical labyrinth using pebbles on the low tide sand. It took around an hour to build and then we had about 45 minutes to walk it before the tide rolled in.
Creating the labyrinth is as much as part of the experience as walking it. The encounter with strangers: who offered to collect pebbles, paused to watch or chat, asked if they could walk it, run or skip it in the case of children.
Building the labyrinth has an uncanny parallel with life. Each pebble is like a moment of our life. Don't we lay the path of our life, hour by hour, day by day, month by month, through what we do and how we show up? There is no labyrinth path until we create it and the same is true with our life. It seems obvious when you say it, yet I found this awareness a welcome reminder that living our life is a creative act every single day.
Walking the labyrinth under water as the tide came in was powerful: disconcerting as the rising water level over the pebble structure shifted my awareness to the coming rise in sea levels due to climate change; playful as I splashed my way along the labyrinth's path; touching as I passed my daughter Iona (aged 21) on the path, she walking in as I was walking out, which poignantly brought to mind themes of the rising and passing of different generations.
At high tide I had a feeling that the labyrinth would be gone in the morning, washed away without trace. I wondered about the parallel with our lives. What's left by way of traces or artefacts when we die?  It struck me that one way we live on is in people's memories and stories.
The next day it was a great surprise to find that the labyrinth was still there. And that day was my son Dominic's 23rd birthday so as a family we walked the labyrinth. It was Sunday evening, and the beach was almost deserted (Shoreham unlike Brighton beach is often quiet). I found it a celebratory experience, full of warmth and joy. And as we came out of the labyrinth, Dom and I spontaneously ran into the sea for a birthday swim. Simple pleasures, gifts of life and memories.
If you've walked a labyrinth what stands out for you as a memory?
If labyrinth walking is new to you, what attracts or intrigues you?
We hope to offer a public beach labyrinth walk on Shoreham Beach in the coming months. Post a comment below if you'd be interested in coming along.
John Watters, Co-Founder, Centre for Spirituality